PAST/RETIRED DOGS
WHERE IT ALL STARTED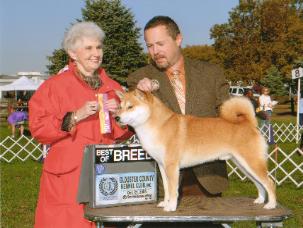 CH ASAHANNAS TEDDY GRAM
OF TENGAI
AOM, RN,CGC

(pictured above going BOB over the #1 ranked Shiba!)


Teddy was our first Shiba. He was our first
AKC Champion, our multiple BOB winner
from the classes, and our first thrill of an
Award Of Merit at a National Specialty. He
was also our first Rally Novice dog. We are
forever greatful to his breeder for allowing
him to come into our home.
Teddy taught us a lot about the breed and
is missed!
He is retired and lives in upstate NY with a
wonderful family as the only dog of the
house, living the high life.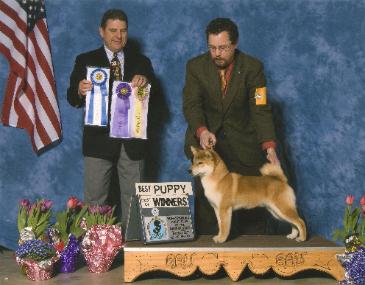 CH RIVER WIND'S CHIP'S AHOY
OF TENGAI

Chip is a great dog! We couldn't thank his breeder
enough for letting him come to us. He finished out of
the 6-9 month old puppy class at 7 1/2 months old,
defeated only once!(with a reserve)
He has a great temperment loves everyone and
everything!
It was decided, due to his size, him being a little too
big, to place him in a great companion home so he
could get all the attention he deserves.
He currently lives very close to us here at Tengai
Shibas(right down the street), so we could visit him
often!

CH TENGAI'S TEDDY GRAM TOO

(above)

Ted is the son of "Teddy" and "Ginger" and is our
first bred-by champion here at Tengai Shibas.
He is retired and living with Chris.

Tengai's Tea Time Tassie

Tassie is a beautiful girl with a great temperment and
personality
We decided to place her in a wonderful companion
home because she is happiest cuddling on the couch
Thank you Tyler and Debbie for giving her the great
home she deserves!

CH Tengai's Stealing Heart's At Bali Hai

Suri finished quickly and is living with Kathi of
Bali hai Shibas

CH TENGAI'S MENDING BROKEN HEARTS
"RILEY"

CH Tengai Just The Tip Of The Iceburg
"Bubba"

CH Tengai Life's A Beach
Maggie

Ginger comes to us from Asa hanna Shiba Inu,
She is a typey bitch with a rich red color and
coat, with wonderful movement. She finished
with limited showing at 11 months old. owner
handled. She is great with other dogs and loves
people, especially children. Ginger has passed
all her health checks and is CHIC registered.
She is our foundation bitch and has already
proven herself as an excellent producer in our
breeding program. Watch out for her kids!
Three champion kids with more on the way!
Update 12/4/10 with her daughter "Lily" finishing
her championship, That gives Ginger her 4th CH
offspring and her Register Of Merit!

CH Asahannas Gingersanap Of Tengai

All health checks passed!
Eyes CERF/Gonioscopy normal, OFA Patellas clear, OFA hips
Excellent, Thyroid norma
l
Iris and her sisters decided to make their appearance during the height of
hurricane Irene summer 2011, hence her name Eye of The Storm!
Iris is a beautiful red sesame with great structure and tons of attitude. We
look forward to see how she matures!
4/29/12 Penn Treaty KC Iris' first point!!
5/6/12 Trenton KC 5 point major!!
What a great weekend in Freehold NJ! 5/26-27 Iris picked up 2 more points!
6/2-3/12 Huntingdon Vally/Burlington County KC W/B BOS 2 more points,
Iris is on a roll!

New Champion 10/20/12 Albany KC
W/B BOS Best Bred By 4 point major!

Iris is now retired and living with her buddy Moe with the Lewis family

CH Tengai Eye Of The Storm

CH Tengai Chip Off The Ol' Block
Bear is retired and living with Brian,
Janie and viloet in Ohio

Ch Tengai Knock On Wood
"woody"
with his co-owner Jeremy
He is now retired living Chad and his
family